Mexico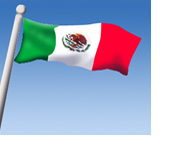 Milgram offers integrated transportation and customs services between Mexico, Canada and the United States. We can arrange the
insurance
, pick-up, customs formalities, drayage, line-haul and delivery of your goods.
Milgram offers regular, expedited and dedicated service for both LTL and FTL loads. Transportation is direct, without the use of connecting carriers, which reduces transit time and minimizes handling.
We also provide specialized services such as Garment on Hangers (GOH), flatbed and over-dimensional loads. And our consolidation service from Laredo provides you with regularly scheduled departures at competitive prices.
Milgram's team of freight coordinators will help you to choose the most appropriate service by evaluating the date of pick-up and required delivery date, size and value of the shipment, packaging and equipment availability.
A typical shipment from Canada to Mexico can involve nine steps:
(1) pick-up in Canada,
(2) Canadian Customs export formalities,
(3) US Customs formalities,
(4) in-bond transport through the USA,
(5) cancellation of the bond at the USA/Mexico border,
(6) warehousing,
(7) drayage through to Mexico,
(8) Mexican Customs formalities, and
(9) transport through Mexico to destination.
Or, you can make one call to Milgram and we will take care of it all.
Life is complicated enough – why not let Milgram simplify it for you?
Contact:
Melanie Doire
tel: (514) 288-2161
email:
mexico@milgram.com