Transportation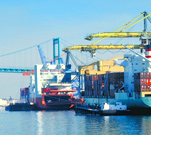 Milgram has assembled an expert team to satisfy all of your transportation needs, whether by ocean, air or surface. A multi-lingual, multi-faceted team is at your disposal to assist you in planning your transportation strategy and in executing your plan.
International Freight Forwarding:
As a Canadian organization we are able to make strategic decisions locally. We have the flexibility to pick and choose our own suppliers, transport companies and overseas agents. We have developed an outstanding agency network throughout Europe, Scandinavia, Great Britain, the Far East, the Indian sub-continent, South and Central America.
We provide regularly scheduled import and export consolidations by both air and ocean freight. We also provide individualized routings for your cargo, based upon your particular scheduling needs or cost considerations.
See more
Truck Transportation:
Milgram provides truck transportation services in Canada, the United States and Mexico. Acting as a bridge between our clients and a vast network of carriers, we serve as a single point of contact for rate negotiations, freight auditing, tracing, pick-up and delivery, and customs clearances.
We also provide on-line tracing and information management for your shipments over the internet.
See more
Point-to-Point®:
With Milgram's
Point-to-Point®,
choosing the right method of shipment for your consolidations to the USA is just a click away.
See more
Mexico:
Milgram offers integrated transportation and customs services between Mexico, Canada and the United States. We can arrange the insurance, pick-up, customs formalities, drayage, line-haul and delivery of your goods.
See more